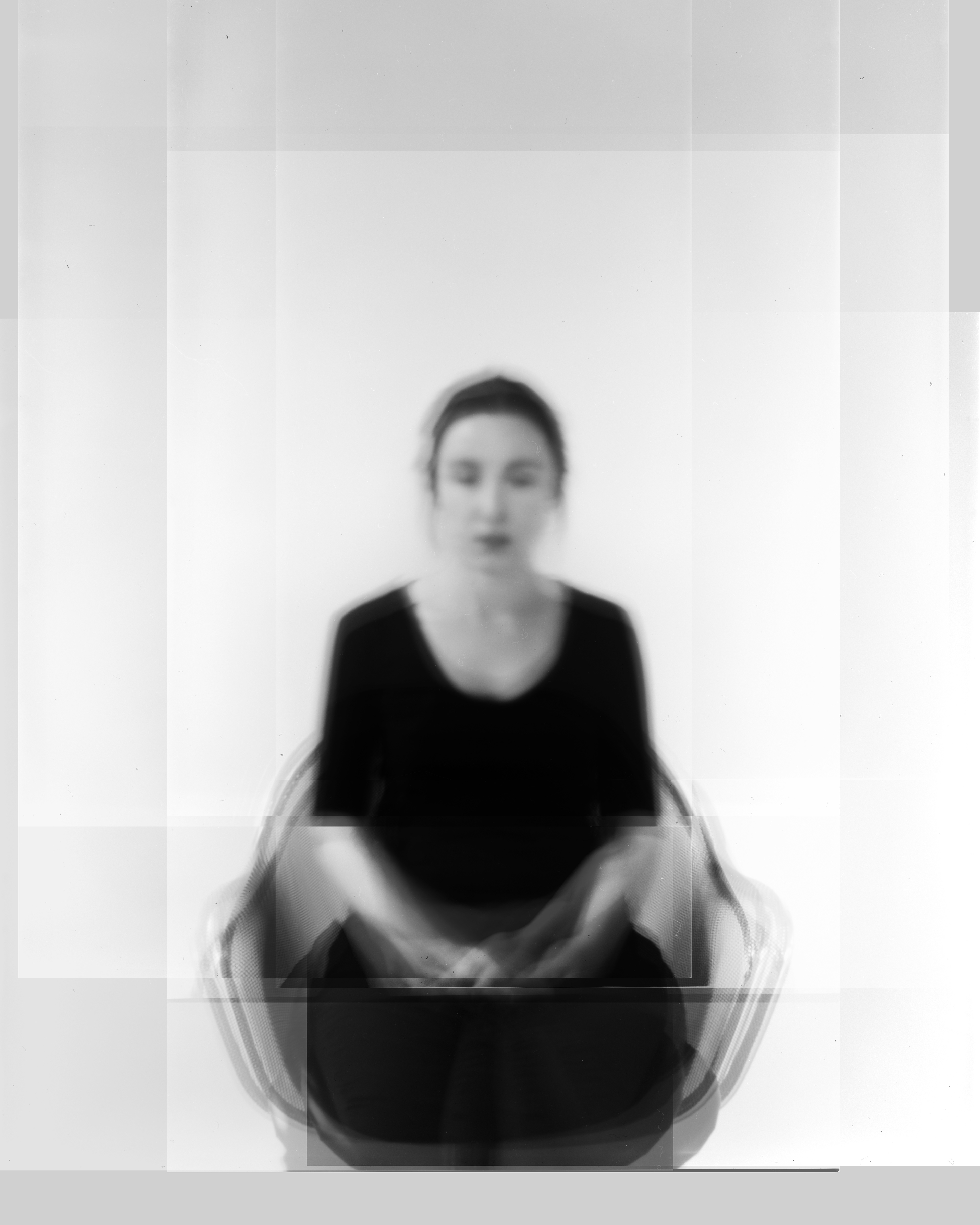 Exposed - Self-Portrait
(2020). Exposure time: 115 min; Pinhole photography; collage.
ABOUT
Magdalena Wierzbicka (b.1994) is an interior architect whose interdisciplinary activity lies somewhere between architecture, photography, and art.
She designs spaces and installations which serve as tools to explore the boundaries of architecture and modes of its visual representation. Her recent works are committed to architecture imaging practices. She focuses on the capacity of images to express architectural ideas and spatial qualities. Currently, she is developing representational strategies based on pinhole cameras that she designs and builds herself.
CONTACT
m.e.wierzbicka@gmail.com
EXHIBITIONS
2019: Lisbon Architecture Triennale 2019, Lisbon, Portugal - Group Exhibition 
2019: About Pinhole Photography, Station Day, Rotterdam, Netherlands
2019: Towards Interiority, Piet Zwart Institute, Rotterdam, Netherlands - Group Exhibition
2019: Techtextil 2019, Frankfurt, Germany - Group Exhibition
2018: Ulterior, Dutch Design Week 2018, Eindhoven, Netherlands - Group Exhibition 
2016: EcoMade 2016, Łódź, Poland - Honourable mention
2016: Arena Design 2016, Poznań, Poland - Group Exposition 
AWARDS
2019: Master Interior Architecture: Research + Design Alumni Award 2019, Rotterdam
2019: First prize - "Material innovation" category;
International TechTextil competition "Textile structures for the New Building 2019", Frankfurt
2016: EcoMade 2016, Łódź, Poland - Honourable mention
WORK
Now - 2017: Interior Designer  - Noctum Interieurprojecten
2020: Photographer and visual designer for "Roes".
2020: Photographer - "Undermatters" exhibition
2019: Speaker - Image and Sound Station Day, Piet Zwart Institute, Rotterdam
2019: Photographer - "Seed to seed" exhibition
2019: Photographer - "Loophole" exhibition 
2019: Photographer - "In service of Interiority" exhibition
2019: Photographer - "Borderland" exhibition
2019: Photographer - "Ulterior" exhibition
EDUCATION
2019: Master of Interior Architecture: Research and Design, Piet Zwart Institute, Rotterdam, Netherlands
2016: Bachelor of Interior Architecture, Univeristy of Art, Poznań, Poland